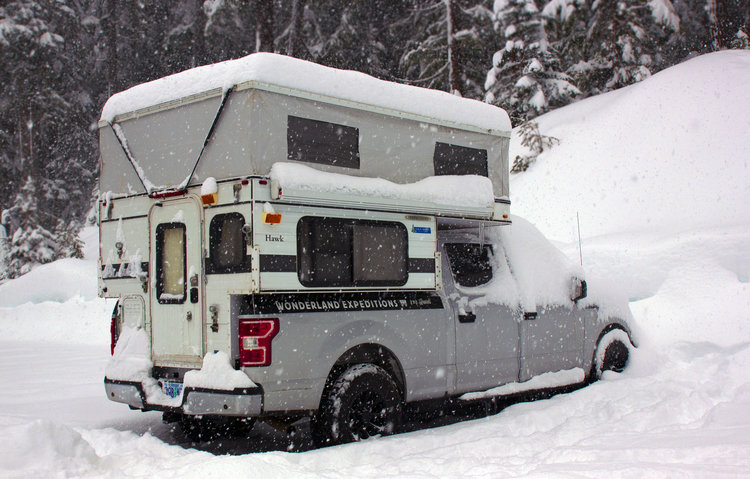 "THEY'RE ONLY CALLING FOR 4-6 INCHES TONIGHT," I CONFIDENTLY TOLD MY FIANCÉE, ELISE, AS WE PULLED INTO GOLD LAKE SNO-PARK IN THE MIDST OF A WHITEOUT. FAMOUS LAST WORDS, RIGHT?
It was 4:30 PM on a Friday when we got on the road headed south towards Eugene, Ore. After battling an I-5 closure due to an accident, we finally got on Rt. 58 in Eugene around 7:30 PM. We headed east pointed to the heart of the Cascades in Central Oregon. The rain turned to snow around 2000 feet of elevation and the snow turned to squall-like conditions around 3000 feet. By the time we got to Willamette Pass, cutting through the blizzard felt as if I was sitting shotgun with Captain Picard in the Starship Enterprise going into Warp Speed.
As we pulled into our first night's borrowed tract of land, we passed several ten foot mounds of snow, which we could only assume were buried vehicles. The snow was getting deep for Hank; it was time to put him to the test. A foot of snow and ice slowed us to a stop so we put the beefy F-150 truck into 4L (meaning a low-range 4-wheel-drive transfer case setting). The Titanic would have been jealous of our abilities to cut through the frozen landscape unscathed (too soon?).
Doré, from Wonderland Expeditions, advised us to "find a piece of land, tucked away from main roads". So we did, and easily plowed right through that foot of snow.
As avid backpackers and campers, this would've been the part we dreaded: arriving hours later than anticipated, in the dark, in a snow storm, (somehow) gathering fire wood, and make camp for the night. Not with Hank. Elise and I unhooked the six exterior latches, hopped on in, and popped the top. We cranked up the furnace and imbibed in some much needed libations before crawling into our queen-sized loft.
Good morning! We swung open the door and much to our surprise, it turned out those 4-6 inches that was predicted ended up being 15 inches. Hank didn't seem to mind. We cleared him off and headed over to Crater Lake, making way for the cars that were buried. Back on Route 58 East, our next stop was Crater Lake, and the route alone was absolutely stunning. We drove through flurries, clear blue skies, blizzards, more blue skies, and there we were, at the south entrance of Crater Lake National Park. The twenty-five foot walls of snow made us feel like ants in a bobsled track but yet again, Hank held strong on the snow-covered roads.
We strapped on our snowshoes, making our way towards the trail head. On our way we stopped to chat with the ranger, who told us it'd only be about a mile to the rim. Phew, not bad, especially when Garfield Peak was looming over us, piercing through the low hanging clouds. He later warned us that in the second half of the hike, 750 feet of it was virtually vertical. There was a chance that we might not even see the view across the lake, and there was a high risk of an avalanche. Despite all that, we decided to keep going.
When we approached the top, two other couples were already there, catching their breath. They cheered us on as we finished our climb, just a few hundred yards from the Crater Lake Lodge. We had made it to the top, and there, in all of her glory, was Crater Lake. The skies had luckily opened up for a few minutes and we were able to see Wizard Island surrounded by pristine turquoise waters, but the other side was still shrouded in fog.
One of the couples who made it before we did revealed that they'd been hanging out at the top for an hour. According to them, the current view unveiled the most scenery. We took out pictures and began our descent to our beloved Hank. We hoped he wasn't buried in snow in the parking lot.
We started our climb down. Backcountry skiers flowed past us through the deep powder as we made our descent, spurring jealousy beyond belief that I didn't bring my skins and backcountry gear. Floating down through the pillows of snow would have been amazing, as opposed to snowshoeing down.
We were so glad to see Hank sitting in the parking lot waiting for us, unscathed by the massive amounts of snowfall that had accumulated during our hike. Yet again, we loaded up our gear, fired him up, and left. Just as easily as we came.
We had planned on continuing on Route 138 towards I-5 but decided to call it a night. We stopped at Toketee Lake, a campground a mile down the road from Umpqua Hot Springs.
"This is just too easy," I told myself as I popped the roof. I turned on the heater, put together a charcuterie board, and cracked open a cold one. As Elise and I crawled into bed, we were already making plans to take Hank, or any of his siblings, out to enjoy the beauty the Oregon coast had to offer.
"This is truly living," I told Elise. Rain, sleet, snow, and blue skies, we saw it all on this short weekend trip and Hank couldn't have handled it better.