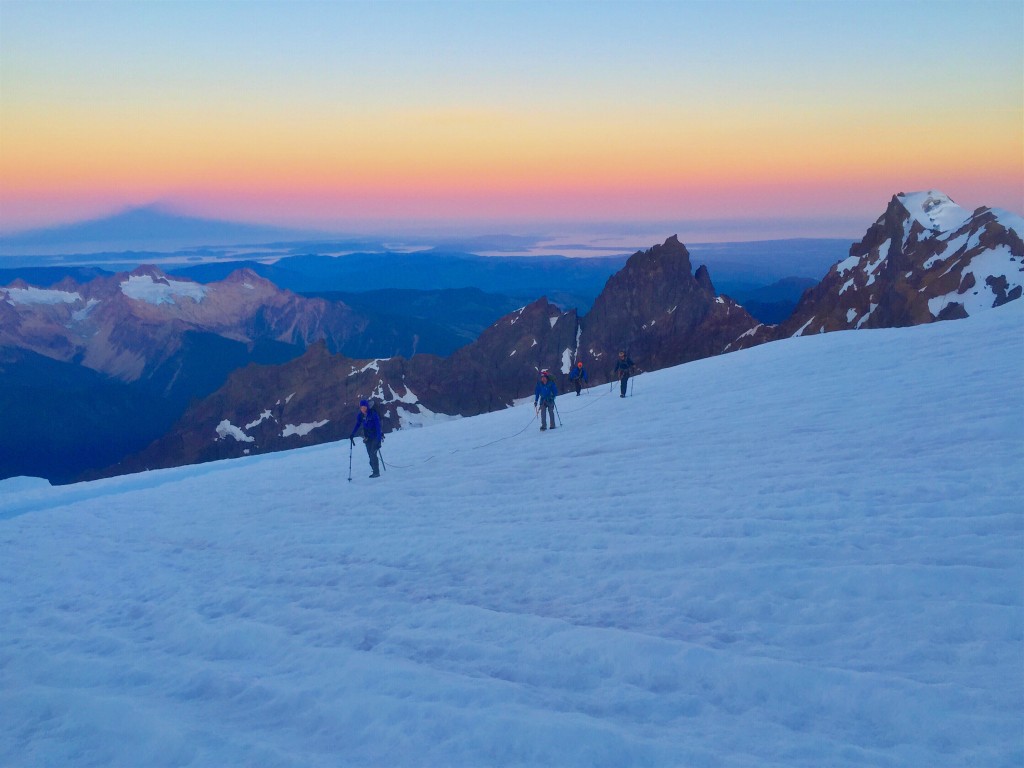 How many times in your adult life have you said to yourself, "I want to do ___but I don't know how." Or "I wish I would have ____ when I was younger so that I could be good at that now." You've probably said that at least a couple times in the past few years or even weeks. For me, I always wish I had started singing when I was a kid so I could blow people away at Karaoke, or at least be able to hold a note. I wish I had picked up a camera sooner so I could take breathtaking photos with an actual camera that isn't also a phone, personal computer and life database. The truth is, as adults, we tend to think we can't learn new things anymore and therefore embrace the adage that – "you can't teach an old dog new tricks." We are so inundated with work and responsibilities that the idea of taking time to be outside our comfort zone and become a student again seems far-fetched if not downright scary. After spending 6 days with the incredible guides at the American Alpine Institute (AAI) I realized how long it had been since I felt like a student and how many excuses I made for myself as to reason why I couldn't continue to be one. The course took me outside my comfort zones in the outdoors, of what I though I knew about mountains and it sometimes made me feel like I was back in math class again, using a technical part of my brain that seems to be a little bit rusty.
Over the past few years my need to be outside has grown exponentially. My journey to reach for higher peaks came from my love of hiking, summit views, and the feeling you get when you stand on a vista and look out over the world through my own eyes. Since I did my first alpine climb two years ago on Mt. St Helens during an early and healthy snow year, I became hooked on that feeling. The exhilaration of working so hard to get to somewhere, the general camaraderie you feel with your fellow climbers, and the mental process you go through to get there. I loved it and I wanted more. As I sought higher and more involved summits I realized that a lack of any technical abilities was keeping me from them. Mt. St Helens, Mt. Adams, South Sister and other hikes similar are considered "non-technical." There aren't glaciers, the routes are fairly straight forward and generally besides crampons, poles and an ice axe, they don't require too much gear to climb. However, Mt. Hood, Mt. Baker, Mt. Rainier and even Middle Sister can all be technical climbs that require a knowledge of ropes, knots, bends, glacial terrain, safety and rescue procedures, proper climbing communication etc… That knowledge and lack thereof was impeding my goals, but my need to summit those mountains aims to change that.
The intrinsic desire to seek out new terrain is what brought me to AAI. I decided that I wanted to take a course on how to do all of the things. I wanted to learn how to rock climb and mountaineer. I didn't want some guide service just to take me up a mountain; I wanted to learn HOW – Teach me how to fish and feed me for a lifetime, you know? After researching many different alpine schools, I decided that AAI was the best choice for me. They offered the most comprehensive beginners course and had the most offered dates.
The American Alpine Institute Intro to Alpinism class is a 6 day course that covers:
– Snow travel
– Proper crampon use – Pied a Plat
– Pied en Canard
– Pied Marche (lessons in French remember?)
– Rope team travel
– Crevasse safety and rescue
– Orienteering lessons with compass and map
– Intro to Ice climbing (if terrain permits)
– Class five-rock climbing- belaying
– rappelling and tying to anchors
– Learning the nuances and technical aspects of mountaineering which is everything from how to pack your bag to coiling rope, tying properly dressed knots and bends (bends are different than knots …that's important.)
– How to safely travel across glacial terrain ie: probing for crevasses and testing snow bridges
– How to place protection and anchors General history of mountaineering – teaching us about it's French and European origin and making sure we knew the derivative of where terms and words came from. Leave no trace ethics
– And lastly but certainly not least-how to poop in a bag on the side of a mountain about 6ft away from your new best friends.… Yes, that had to (from a nature calls during a 10 hour summit climb way) happen and you get over it.
I'm probably forgetting a few things but I think you get the reason why it's called an Institute. This course is for learning and for thinking. It develops the skills that allow you to start and continue your mountaineering career. They want to test you but also encourage you. Think of them as though they are like your favorite teacher back in college or high school – understanding your limits but still somehow pushing you past them in a way that makes you feel safe and encouraged. I actually can't say enough positive things about my instructors. Their extensive knowledge seemed unlimited, constantly wanting to teach you and help you. Their passion and love for the sport was infectious and their climbing and mountaineering backgrounds were anything but short of impressive.
Over the 6 days that I spent with AAI and my five other fellow student climbers I learned more new things than I have since I started my career in Film Production. I felt excited, nervous, sometimes overwhelmed, and generally in awe of how much there was to know and how many different ways our instructors knew how to teach so each individual could understand. Now, I have no rock climbing background, which is generally a sport that leads a lot of people into mountaineering. I've always been terrible at tying knots and have a hard time handing rope, which is what I remember from the few times I sport climbed in college. I knew that part would be a challenge for me and it was. But, by the end of the 6 days and constant repetition, reminders and use, everything started to get easier and I could put systems and ropes together on my own. I was by no means ahead of the curve but knowing how I learn and understand things I was impressed by the knowledge and abilities I came away with.
On Summit day the lack of snow and warm weather made it so our climb offered our team unique learning situations. We had a little bit of everything as far as terrain is concerned, ice, soft snow, hard snow, giant open crevasses we had to navigate around, snow bridges that we had to learn to walk across, our guide even had to place vertical protection on a particularly spicy part coming up what is known as The Roman wall. 1000 vertical feet of exposed glacier you have to traverse before you reach the flat snowfield to the summit. Because of this terrain I think everyone felt a need to "man up", so to speak. There was a strong feeling of unity as we crossed ice and uneven terrain through the night making our way up to the summit. I felt, and I think everyone else did as well, that unless our guides told us to turn around due to unsafe terrain, we were all going to get outside our comfort zones and make the climb happen, not just for ourselves but also for our team. Our guide's confidence in us was encouraging as was the trust that I had in them and their leadership capabilities.
As we traversed up the steepest pitch of the route through a narrow, windingpathway and on a degree grade I had yet to climb just after sunrise and 5 hours into our adventure, I knew that what I thought my limits were had now been broken. Less than a mile away from the summit, my heart beating and my mind and eyes constantly focused on the rope in front of me and the feet underneath me I knew that this is what I had came for. I made that exhilarating and terrifying step outside what I thought I could do and now those limitations don't serve me anymore. I had found the exact encouragement and education I needed to push me forward in what I loved doing. There is no price for that.
I wish I could find a way to sum of my experience with AAI, the other people wanting to learn from them, and my Instructors – Andrew Yasso and Jenny Merrian, but all I have is this. If I did nothing else with my summer, like it was complete shit and I never got to go outside and all I did was work – those 6 days could come close to making up for it.
If you have ever told yourself you want to learn to do anything like this, or have toldyourself you can't for so many reasons – stop getting in the way of yourself and go. You won't regret it.
Note: Part 2 will feature a more technical aspect with info on gear and other insights.