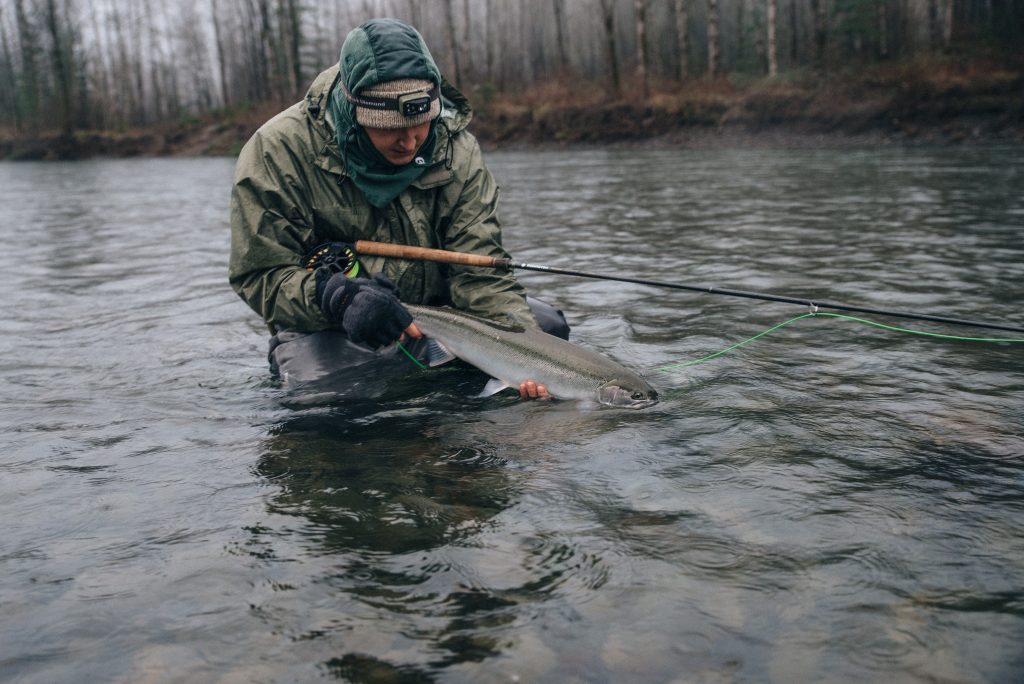 I know, I know, New Year's resolutions are cheesy. We all make them, at least in our heads, and hardly ever live up to them. But this year is different because I'm talking outdoor resolutions. My New Year's outdoor resolution is inspired by, or rather in spite of Kenny. Kenny works in the board shop. He's a snowboarder and surfer, but his true gift is fly fishing, and thus he is my arch nemesis. Now if you know Kenny you would say how can he be anybody's arch nemesis, he's no Darth Vader or Lex Luthor, but you see Kenny has caught three Steelhead on a fly rod, and I have caught exactly zero. So my New Year's outdoor resolution is to catch a steelhead on a fly.
I spoke with three of U.S. Outdoor's most intrepid outdoor explorers and these are their hopes for the New Year.
Kareen is a 27 year old native Oregonian that works in the camping and climbing department. This year she has three goals. She is planning a trip to Glacier Park in the spring with a good friend. She also picked up a used whitewater kayak last year and is planning on taking classes to learn the basics before she takes the plunge on going down a real river. But the thing she is most looking forward to doing is ski jouring with her dogs Gucci and Floyd. Gucci is a Husky German Shepard mix, and Floyd is a Black Lab and Rottweiler mix. These dogs were made for the snow.
Ski jouring is where you harness up your dogs and they pull you in the snow. Ruffwear even makes a harness specifically for ski jouring. She plans on going to some of the mountain lakes around Mount Hood like Timothy Lake and Frog Lake. I asked her if she has anymore goals for the new year, she said, "Not get broken." She broke her ribs last year snowboarding and it took her five months of rehab to get better. Not get broken. Good advice. Have fun this year Gucci and Floyd.
Jen is another 27 year native Oregonian that works at U.S Outdoor. She works in the board department. Her main goal is to come back stronger than she has been in the past five years. She has had a full knee replacement and ACL reconstructive surgery in that time. Two summers ago she was skateboarding a bowl in Alaska when she went up to the top of the bowl and did a feeble, a skateboarding term for all you squares out there, as she came back down she landed wrong and heard a loud pop. A blown ACL. Since her surgery last year she has been on the road to recovery to accomplish her main goal this year. Splitboard Mount Shasta.
She has been biking, walking and even doing a little running in her preparation for Mount Shasta. She is planning her trip for October of this year. I asked her what the hardest part of recovery was for her. It was not being able to do the things she loves the most, skateboarding and snowboarding. But she gave some great advice, "Surround yourself with positive things", she said. She told me she has other things she loves to do, watching movies, doing her artwork, and just hanging out with friends. She also said that loving where you work helps. She may not be able to do the things she loves right now, but she gets to help people get into one of the activities she loves the most. Snowboarding. Surround yourself with positive things. More sage advice from another young lady at U.S. Outdoor. Good luck this year Jen.
Daniel is another U.S. Outdoor employee with an adventurous spirit. I'll let him tell you in his own words.
Plans for Summer 2018, The Pacific Crest Trail
This summer, Starting on May 18th, I will be hiking the Pacific Crest Trail through California, Oregon and Washington.
My first encounters with "Thru-Hiking" came in the summer of 2000 when my science teacher, Mr. Ryan sponsored a backpacking trip through the Three Sisters Wilderness Area in Central Oregon. The route was a simple one, heading south on the PCT from Lava Lake to Devils Lake 26 miles away. When we were unloading our gear and checking our equipment, two ragtag bearded men came to the parking lot looking for a ride into town. My Father, who was shaperoning the trip had been reading the Oregonians articles covering the journey that the two men were on, ironically. We gave them Snickers bars. They talked about their life for the three months the had been on trail. We said our goodbyes and on the final day of the trip in Wickiup Plains near South Sister I had decided that the seed had been firmly planted, and that I should probably hike the trail someday.
Fast forward to 2013. I had recruited the help of my dear friend M. Charlie Garros of Toulouse. I had met him in Turkey and whilst I was in Peru during the new year I had made the goal to shoot out around May 1st of that year. He flew in after reading my Facebook post. We hiked from Campo, where the the southern terminus is located, to Bishop Pass together, 846 miles in. I distinctly remember the Joshua Trees of the Mojave and the Western Junipers that grew ancient in the High Sierra, along with the many beautiful and dynamic individuals who shaped my ideas of friendship along the way. A combination of physical, mental, and financial stress had gotten me off the trail as Charlie continued to nearly the border at Manning Park, British Columbia, until an early winter storm cut off the final stretch in early October for him and many others.
Now, in 2018, I have felt a debt to the dream of hiking the trail. Spending not weeks but months in the wild is such a demanding goal that it has changed my reality in the city. Saving every penny, quitting smoking and drinking, and getting into a physical condition that would warrant hiking 30 miles a day for months are not only goals but necessities if success is possible. The gear that I've accumulated from a life suited to outdoor living will carry me to the southern terminus, but food resupplies, budgeting, and discipline will hopefully carry me to Manning Park. I look forward to the desert section of 700 miles with great anticipation. Crossing through 25 National Forests and seven National Parks, I look forward to long days and quiet nights in the backcountry. With some light mountaineering I can climb several non-technical peaks along the way for views, and the trail passes by Portland, my hometown, for inevitable beers with pals. When or if I finish will determine future plans to possibly accomplish the Triple Crown of hiking, which combines the PCT, the Continental Divide Trail (3100 miles) and the Appalachian Trail (2180 miles).
Wish me luck!
Daniel asked us to wish him luck. I wish everyone luck in all their endeavours this year.
Even you Kenny.