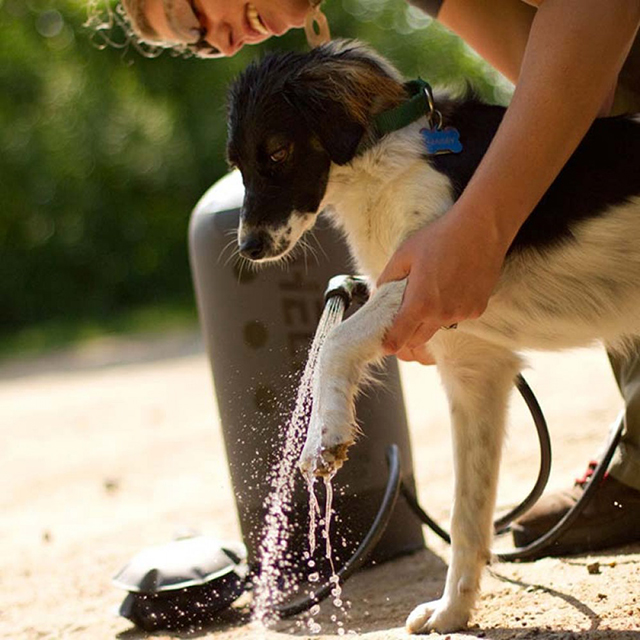 For those of you who are hardcore backpackers you should probably move along. But if you're car camping and want to take it to the next level, here are ten things that will open up a whole new world of automotive outdoor dwelling.
Camping Hygiene
Camping on the Deschutes River a few years back the Nemo Helio Pressure Shower was something I never thought I'd need, but by the end of that night I would have given anything to have one. My wife and dogs left camp that night for an evening hike along the river. When they got back she said, "They rolled in something," and by the look on her face I knew it was bad. Then the stench hit me, something like newborn baby diapers and chinese food. I started to gag. Fearing I would hurl, I grabbed a beer, ran to the car and got in. I know, I'm a coward. I sat there, drank my beer and watched Shawna go back and forth countless times, down to the river, filling her water bottle, dumping it on the dogs and scrubbing them with Dr. Bronner's Soap , over and over again. It took over half an hour before camp began to smell half decent. I should have grabbed two beers. Needless to say, lesson learned. The following Monday the first thing I did when I got to work was run down to the camping department and grab a Nemo Helio shower. Now that thing goes with us everywhere.
Campsite Lantern
A lantern. An obvious must. But two lanterns is the way to go. I use a Coleman Propane Lantern for the picinic table and my Black Diamond Apollo L.E.D. lantern to help me navigate through camp during the night. Hang it inside your tent or bring it with you to the outhouse. The best part is, it's small, packable, and easy to carry.
Canteens & Tumblers
A Hydro Flask is always a good thing to have on a camping trip, and I'm not talking about your standard water bottle. I'm talking about a Hydro Flask Tumbler . When you're chillin' around camp, it's easy to hold in one hand, so you can keep that other hand free for slapping mosquitoes or throwing a stick for the dog. It's best use, as US Outdoor employee Pat once said, "It good for cocktails and such."
First Aid
You absolutely must have a first aid kit. I know it's boring, but it's essential. I have two kits, the first is an expedition size. It has everything and it comes with a backcountry first aid guide book. It spells out with great detail how to take care of everything from a tick bite to a sucking chest wound. The other kit I carry in my backpack. It's a smaller Adventure Medical Kits . I augment it with a tourniquet;
Quikclot trauma pak , it helps to stop bleeding fast; and duct tape, it has a million uses, not literally, but you get my drift. Remember what my Grandma Shirley used to say, "It's better to have it and not need it, than need it and not have it". Good advice.
Basecamp Shelters
Cordage and tarps go hand and hand. I always have a tarp and at least fifty feet of cordage
with me. You never know when the Pacific Northwest sky will open up and douse your camp with a vengeance. With cord and tarp you can set up a nice awning over your picnic table, thus saving your weekend. However, if you're on the Deschutes River you're screwed. No Trees. I've had that happen a few times. But at least you can practice your knots with your cordage while you ride it out in your tent.
Campsite Utensils
I love my Snow Peak Titanium Spork. What can I say about a spork. Half spoon, half fork. Need I say more. Yes, it's titanium.
Camping Cookware
My wife needs her coffee in the morning. I know it's cliche, but she does. She says the only thing good about morning in camp is coffee. You have to be quiet, it's cold, and you can't drink. At least not until noon. So she fires up the stove, boils some water, and grabs the Java Press and presto, coffee. I like to Irish mine up a little, wait until noon, please. We're camping.
Camp Tools
One of the most important tools I carry when I go camping is my Leatherman. Leatherman is synonymous with the term multi tool. Having pliers is essential. It's definitely gotten me out of a jam a time or two.
Basecamp Essentials
My favorite item that you've probably never heard of is the Little Buddy Heater . It uses the same propane tanks that my Coleman lantern runs on. Just screw one on and press the ignitor button and you have a nice heat source for over seven hours. I've had some cold nights on the Deschutes River in February and March, and that little thing cranks the heat. It is such a psychological pick up to have warmth in the midst of numbing cold. I know it seems like a luxury," but if you have the means I'd highly recommend picking one up." A blatant Ferris Bueller reference, but how great was that movie?
-written by usoutdoor employee C.Tyrell